These meditations are for you whenever you're lost—in your mind, in stories, in agitating emotions.
You'll be guided to get out of your head and into the peace of this loving present moment.
The solution for moving from stress to ease:
Guided Meditations
for Wholeness, Clarity, and Freedom
Volumes 1, 2, and 3
Start wherever you are…
• Gripped by anxiety
• Ruminating about stories from your past
• Uncertain about what to do
• Tired of trying so hard
• Needing to take care of yourself
Each meditation brings you back to presence, back to peace, back to the deepest acceptance of everything as it is.
You deeply accept yourself as you are.
• Guided meditations from 5 to 20 minutes
• Downloadable to your phone, computer, or tablet for immediate access
• Learn tools for when you're stuck in habits and consumed by emotions
• Be calmer and more relaxed
• Shift from fear and confusion to ease and openheartedness 
• Guidance to stop feeling bad about yourself by moving beyond your painful stories
• Reduce stress by coming home to the moment
• Find the place of space and stillness within
• Gail is your companion as you open to the deepest peace available right now
People are saying:
"This is a most amazing piece of audio. This has the potential to change anyone's life, it certainly has mine."
"When I do your meditation at least two times a day, my quality of life is noticeably better. It's the best investment I've ever made for my personal health and well-being." ~Jeff B.
"You have one of the most soothing and calming voices I have ever heard. Just listening to you kinda puts me into a trancelike state. Very relaxing."
"Thank you for providing this beautiful and effective guided meditation. It truly helped me to rest my thoughts for a while, leaving me with a feeling of being . . . cherished."
Listen to these meditations as often as you want. Each time is fresh!
When you listen to a guided meditation in the morning, you'll start your day awake and grounded. And it's a rich and relaxing way to wind down at night.
You choose the topic that you need in the moment and the length of time—from 5 to 20 minutes.
Each time draws your attention into the peaceful space of presence. Your body relaxes…your mind becomes clear.
The problems that seemed so important take a backseat as your attention expands endlessly into this now moment. It's glorious!

It's been a joy for me to create these meditations. I had you in mind as I recorded them. I hope you enjoy them!
For a limited time, purchase all 3 volumes for the price of 2 ($60). You'll receive 32 meditations that add up to more than 5 hours.
Or get each volume individually for $30 each.
Volumes 1, 2, and 3—$60—one volume free
Volume 1—$30
Volume 2—$30
Volume 3—$30
Here is a sample from Volume 3, "Finding Peace with Emotions."
And here is detailed information about all that's included:
Volume 1 (from 5 to 20 minutes; total of 2 hours)
1. For Ease and Relaxation 
Let yourself be guided into ease and relaxation. You might use this recording after a stressful day, before going to sleep, or any time you need a few minutes to rest and recharge.
2. Effortlessly Being Aware 
In this meditation, you're invited to give up all effort to think, be, or do. What is left? Effortlessly being aware. So relaxing to be in this present moment.
3. Flexible Mind, Happy Mind
Who doesn't know the pain of a rigid mind? It's a mind that knows, assumes, and wants what it wants. It's a mind that resists what is. Feeling frustrated? Maybe that's due to rigid ways of thinking. This guided meditation invites flexibility into your mind and expansiveness in your body.
4. Surfing the Urge 
Sometimes when we're trying to let go of habits that don't serve us, the urges we feel can be quite strong. Psychologist Alan Marlatt suggests that we surf the urge rather than acting on it. In this audio, we go through each step as you experience an urge that you struggle with.
5. Big Sky Meditation 
Stressful thoughts and feelings are like clouds passing through the sky. You're invited to be like the cloudless sky, staying open and stable as clouds come and go.
6. The Grace of Surrender 
Surrender everything, and you get a taste of the pure aliveness in this now moment—so luminous, brilliant, and utterly mind-blowing.
7. How to Be with Difficult Emotions
If we don't open to our emotions, they remain mysterious. We have strong reactions we don't understand, and we feel out of control in a split second. So let's slow it down. This meditation supports you through the experience of challenging or painful emotions.
8. You Are Welcome as You Are 
This audio offers unconditional acceptance of all of you just as you are.
9. Introduction to Silent Meditation 
After an introduction to meditation, this audio leaves about five minutes for you to meditate in silence. 
10. Consciousness Resists Nothing
It takes energy to resist, and when we resist, we feel separate. This meditation guides us to no longer being caught in the mind. We realize we can just be here, conscious and aware, resisting nothing. We experience quiet…stillness…presence…
"Thank you for the audio. It is very relaxing to the ear and mind. This does give a positive feeling to the entire body. Nice way to begin my morning! "
"Just exactly what I needed at this exact time. Thank you."
"Your guided meditations help me find peace."
Volume 2 (from 5 to 19 minutes; total of 107 minutes)
1. How to Be a Warrior 
This meditation is about embodying the passion of a warrior in your quest for peace and freedom. It describes the six warrior qualities—willingness, courage, perseverance, self-sacrifice, taking responsibility, and living in the unknown. The invitation is for each of these qualities to come alive within.
2. Warriors Way
This meditation takes you through the six warrior qualities, applying them to your investigation of a personal trigger or habit. How can these qualities be cultivated in your own life?
3. The One and Only Way to Move Through Habits
This meditation is for anyone who is caught in a habitual way of being. It describes that there is only one way to move through these habits that hold us back from fully living and that is to make a different choice in the moment.
4. The Intelligent Approach to Fear 
This is a guided process to help you come to peace with fear.
5. Inadequate and Broken: Not Who You Are 
Many of us feel like we're worthless or inadequate. This meditation untangles these painful beliefs and invites a gentle return of our attention to our natural wholeness. Then you're available to the magnificent, never-ending river of life.
6. Listening Within
This meditation invites you to open to what the body might be offering you about a situation in your life that is unclear or confusing. Listening within can become second nature; we start by simply bringing our attention into the deepest, wisest part of ourselves.
7. Time to Forgive
Forgiveness invites us to reflect on our attachment to stories from the past and how they still affect us. This audio guides you to begin to contemplate forgiveness. In it, I describe my own story of forgiving to illustrate the letting go that is possible.
8. Awakening in the Body 
We're often to caught up in our minds that we don't realize how much of our experience is happening in the body. Bringing our attention into the body is a gateway to freedom from sticky emotions. Opening to sensations—and the space in which sensations arise—reveals the deepest peace available right now.
9. Accepting Everything
This meditation invites you to lovingly welcome all experiences, especially undesired ones, into the light of awareness. If we resist our experience, we feel afraid, alienated, and fragmented. By welcoming everything as it is with the deepest acceptance, boundaries dissolve and separation ends. You realize a lovely and tender heart toward everything.
10. Discovering the Space of Presence 
This meditation invites simple shifts of attention away from objects that draw your attention and to yourself, the aliveness that is present as your actual experience in the moment. This is your true home. You'll notice you're very connected, present and open, still and alert.
11. In This Moment 
A meditation inviting you into presence…right now…in this moment…
"I just listened to this and all I can say is WOW. I think it just helped me to release at least 10 pounds of stress from my body. I could feel the stress well up, come to a point and then just fly out! Several times I experienced immense relief from pent up tension and stress while listening to this."
Volume 3 (from 6 to 20 minutes; total of 96 minutes)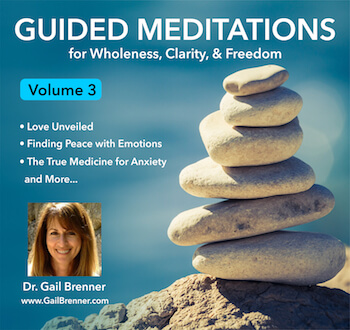 1. Freedom from Habits
This meditation guides you through the deep investigation of a habit. Play this recording to explore your habits as many times as you need to. Each time is a celebration, as you realize the possibility of being here, alive to what is real. Awareness is the key to the prison door of your habits.
2. Wisdom of Restraining Yourself 
This audio offers a process to guide you to directly experience what happens when you restrain yourself from playing out an automatic habit. Once you try it a few times, you will see firsthand the possibility of letting go of patterns that don't serve you.
3. The True Medicine for Anxiety 
Here we introduce four practices to have in your pocket when you're feeling anxious. They interrupt the story of what is making you feel anxious and focus instead on your in-the-moment experience. These practices support you to ground in the present moment.
4. Opening to the Truth of Yourself 
This audio is a guided process for turning your attention inside and opening to the truth of your experience. You just breathe with what is rather than playing out mental habits and happily discover that freedom is possible.
5. Exploring Memories 
This audio is a guided exploration to support you in letting go of painful memories. You will be invited to bring your loving attention to your emotions. Every time you stop telling yourself the story of what happened and you experience the feelings directly, you are reclaiming your natural state of freedom and wholeness.
6. From Attachment to Freedom
Do you want to suffer? Then be attached to outcomes. Want people to be a certain way, and make sure your happiness depends on situations you can't control. Attachment creates longing, confusion, and frustration. This guided process guides you to realize how you're attached and brings space and clarity to your experience.
7. Finding Peace with Emotions 
Emotions are part of the normal landscape of this human life, but we sometimes feel gripped by them. This meditation is not about fixing or changing emotions. It offers an invitation to deeply accept emotions as they appear. We stop fighting with ourselves and realize that peace comes by embracing our experience as it is. We heal inner division and tap into the joyful possibility of being one with life.
8. You Are Already Whole 
This is a guided process for discovering your essential wholeness. It points to the reality of who you are that is not broken, damaged, or needing to be improved. Isn't that great news? Know the unconditioned you, and realize that deep happiness is possible.
9. Being with What Is
This meditation is a support for practicing being with what is, as it is. When we receive whatever we experience without clinging to it or fighting with it, we put an end to the stressful inner war. It's so possible to know the deepest peace…
10. Uncovering Expectations
Who doesn't have expectations when it comes to relationships. We want to be right, and we want others to be the way we want them to be. Here is a guided process to help you bring peace to your relationships by uncovering and investigating expectations.
11. Love Unveiled 
This meditation focuses on how we meet our relationships and the people we encounter as we move through life. Here's the invitation: to go beyond our conditioning and our personal wants and desires to meet people from presence and love, with no filters in the way. You open into the space of oneness, where you realize the essence of you is the essence of everyone and everything.
"Thank you for taking time and making these audios. I'm very glad I found them."
"Thank you for helping me to get that negativity out!"
These meditations are for times when you've been hijacked by emotions, for learning how to be free of habits that don't serve you, and to support you to rest in quiet and stillness.
Each volume is sold separately for $30 each. But for a limited time, you get all 3 volumes for $60. That means you purchase 2 and get the 3rd for free! 
Volumes 1, 2, and 3—$60—one volume free
Volume 1—$30
Volume 2—$30
Volume 3—$30